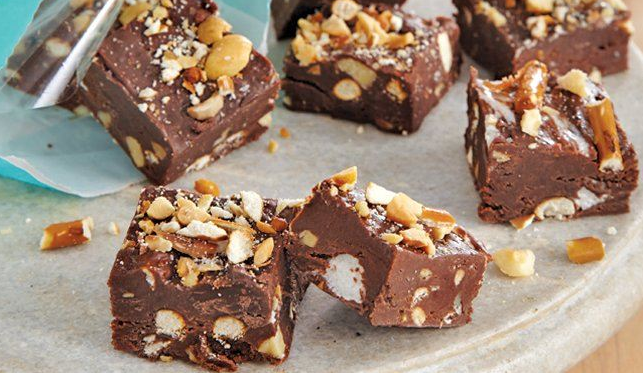 With it being National Pretzel Day I wanted to find you a recipe using pretzels that is yummy and delicious that everyone can enjoy and seeing as we all seem to love fudge I was over the moon when I found this recipe for you
It would be great to make for a gift to place in a pretty bag or box and give it to that special person or to make as a treat for a party or movie night .. I love it
This great recipe is brought to you by tablespoon.com website, thanks for sharing it with us
Here below is a list of the ingredients you will need to make this recipe from the website
Prep Time 15

min

Total Time 

2

hr

15

min

Servings 

36
This sweet fudge with a hint of saltiness couldn't be easier—simply microwave and pour!
INGREDIENTS
3 cups semisweet chocolate chips (18 oz)
2 1/2 cups miniature marshmallows
1 can (14 oz) sweetened condensed milk (not evaporated)
1 teaspoon vanilla
3/4 cup broken pretzel sticks
1/2 teaspoon coarse sea salt
1/3 cup chopped salted cocktail peanuts
TIPS :Swap in your favorite sweet and salty treats in this fudge—dried cranberries, cashews, toffee pieces or pistachios would also work well.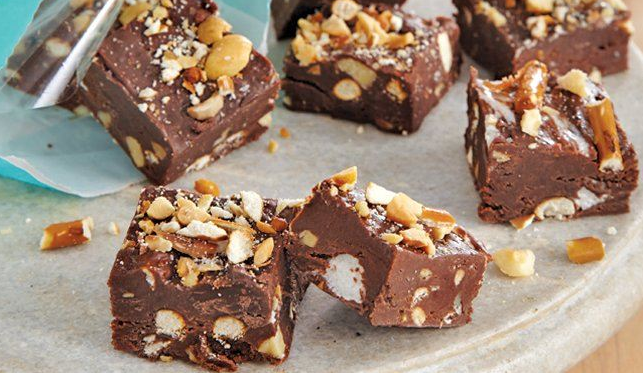 April 26 – National Pretzel Day
Five Food Finds about Pretzels
The first pretzel was created in 610 A.D. by a monk in southern France or northern Italy. It was originally called a 'pretiola' and was renamed 'pretzel' later when the idea migrated to Germany and Austria.
 In 1861, pretzel twisting was the second highest-paying job in the Philadelphia region. Today, machines do the twisting, although at some artisan shops, tourists can still see it done the old-fashioned way.
The birthplace of the hard pretzel was Lancaster County, Pennsylvania. The pretzel, or bretzel as it was called then, first came to America in 1710 with Palatine German immigrants (from the Rhineland) who settled in Lancaster County, Pennsylvania and became known, incorrectly, as the "Pennsylvania Dutch."
 In the 18th century, German children would wear pretzel necklaces at the beginning of a new year for prosperity, health and good fortune.
In the 17th century, pretzels were known as a marriage knot. During a wedding ceremony, a couple would wish upon a pretzel, break it (like a wishbone), and eat it to signify their oneness. It is speculated that the term, "tying the knot," originated in Switzerland in 1614 during a wedding between two prominent families.
Article source :foodimentary.com
The full recipe from tablespoon.com is found in the box below