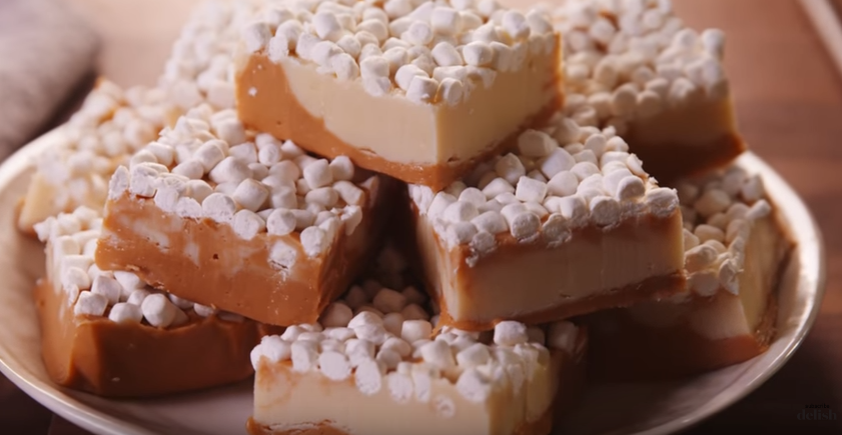 I love making fudge especially near the holiday season so I was so pleased when I found this buttebeER fudge recipe as it is one that I have not seen before so I just had to save it and share it on to you all so that you too can make it
I certainly will be giving this recipe a go later on before the festive season starts
This great recipe is brought to by Delish on YouTube  , thanks for sharing this recipe with us
Here below is a list of the ingredients you will need  , also the video tutorial from YouTube
DIRECTIONS
1. Line an 8″-x-8″ pan with aluminum foil and spray with cooking spray. Set aside.
2. Make the butterscotch layer: In a medium-sized saucepan, melt butter, then add condensed milk and butterscotch chips, cooking over medium-low heat. Stir until all chips have melted and the mixture has fully combined. Pour into the pan.
3. Make the white chocolate swirl: In another small saucepan over medium-low heat, combine condensed milk, vanilla, and white chocolate chips. Stir until chips have melted and remove from heat. Drizzle white chocolate on top of the butterscotch fudge, then use a butter knife to gently swirl the two flavors together. Top with marshmallow bits, if desired, using your hands to press them into the top of the fudge.
4. Refrigerate for at least 4 hours. Cut into slices and serve.
INGREDIENTS
BUTTERSCOTCH LAYER
2 tbsp. butter
1 can sweetened condensed milk
3 c. butterscotch chips
WHITE CHOCOLATE SWIRL
1/3 c. sweetened condensed milk
1/2 tsp. vanilla extract
1 c. white chocolate chips
1 c. marshmallow bits (optional)